"The Hunger Strike" is a second season episode of the Adult Swim's The Boondocks. It originally premiered on March 16, 2008 in Canada, and it later aired in the U.S. on September 20, 2009 on BET J and did not air on Adult Swim.
Watch this episode [1]
Plot
The episode begins inside of the BET headquarters with fictional president Debra Leevil presiding over a board meeting on how they are destroying black people. The issue of
Huey Freeman
is brought up, as he is shown on CNN giving a press conference stating that he is on a hun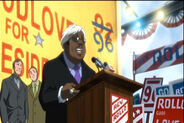 ger strike and that he will not eat until there is a public apology for creating BET, the network is shut down, and all the executive board members commit Seppuku, a form of ritual Japanese suicide.
Huey joins forces with a charismatic preacher-like character named Rollo Goodlove (voiced by rapper/singer Cee-Lo) who attempts to add a flashy image to the fight against BET, lobbying for a boycott of the network. Huey initially believes this to be a good idea, a reaction to a successful rally/concert Goodlove throws. He is eventually betrayed, however, when Leevil, trying to derail the boycott, offers Goodlove a show on BET. In response, Huey ends his hunger strike, deciding there is nothing he can do to change BET himself.