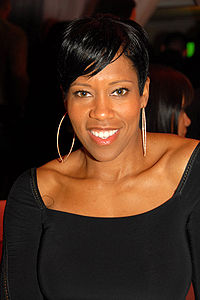 Regina King is the voice actor for Huey Freeman and Riley Freeman. She was originally cast to voice Riley but Aaron McGruder was so impressed he asked her to voice Huey as well.
Filmography (Past Works)
King was born in (Los Angeles, California), the daughter of Gloria, a special education teacher, and Thomas King, an electrician.The two divorced in 1979. She is also the older sister of actress Reina King. Regina and Reina mean "Queen" in Latin and Spanish, respectively. Regina King attended Westchester High School (Los Angeles) and the University of Southern California.
King married Ian Alexander, Sr. on April 23, 1997. Their son, Ian Alexander Jr., was born on January 19, 1996. King filed for divorce from Alexander on November 8, 2006, citing "physical abuse, drug use, and extramarital affairs". She was linked to Brian White. She is currently dating Malcolm-Jamal Warner. She has also said Aaron has thought of making a Boondocks movie. she also was in movies with bill coby,opera winfrey,.etc.king made an apperance at the red carpet with her husband.